Welcome to Bagblaze Bag Of Your Choice Giveaway
Hosted by Hearts Content Of A Mama in behalf of Bagblaze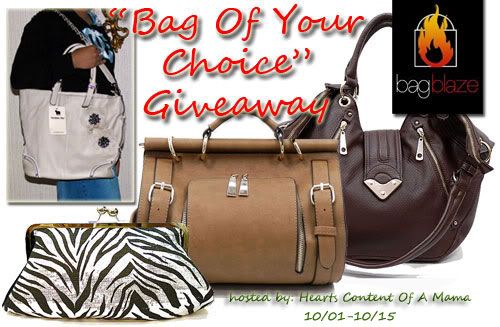 Lot of guys get confused or wonders why girl keep buying bags even if they have tons of it laying in the corner of their closet. Well, bags and girls are like bff i guess, or it's like a lifeline. If superheroes has their cape and mask, then girls must have their bag. Imagine all those girly-ish stuffs and beauty essential that a girl has to carry around every time they get out of the house. Where do you think they should put them. Thus a bag is necessary for every girl. Collecting bags is like an addiction for some girls while others consider it a hobby. Anyway, if you want a fashionable bag added to your bag collection then don't miss out this chance to win one. And if your shopaholic personality kicks in then visit Bagblaze.com and shop your own choice of bag.
About the prize: One very lucky winner will get a "Bag of her Choice" At Bagblaze. Giveaway will run until October 15th at 12:01 am EST, must be 18 years or older to enter.
This giveaway is open to US residents only!
To enter, just fill up the rafflecopter form below.
a Rafflecopter giveaway
Disclosure: I received no compensation for this promotion. My opinions are my own and may differ from those of other consumers.
Impulsive Shopper is not responsible for sponsor prize shipping.
Thank you for participating everyone and Good Luck!
Many "Thanks" to the lovely bloggers who are helping me to promote this giveaway!